14th March 2016
|
LeBlanc & Block: Sightseeing The Top Gear Way
Despite the mass exodus of those loyal to the established trio of May, Clarkson and Hammond, there are still a number of car lovers awaiting the return of Top Gear with baited breath.
At Walton Bridge Garage we're still sitting on the fence. It's not that we don't want to watch the new Top Gear, but we are creatures of habit and sceptical about the new cast to say the least. However, for some of us, these habits include watching the archaic entertainment medium of television as it's always been, so this Amazon Prime lark is also too new and scary for us to accept just yet.
So stuck between a rock and a hard place it seems that we are going to have to give Evans and co a chance and check out the new series and the hype has certainly been building, with Matt LeBlanc spotted out and about filming a segment for the new series in London on Saturday morning.
But despite him easily being our favourite Friend's character, it wasn't Joey that had us all worked up, but rather who and what he was with.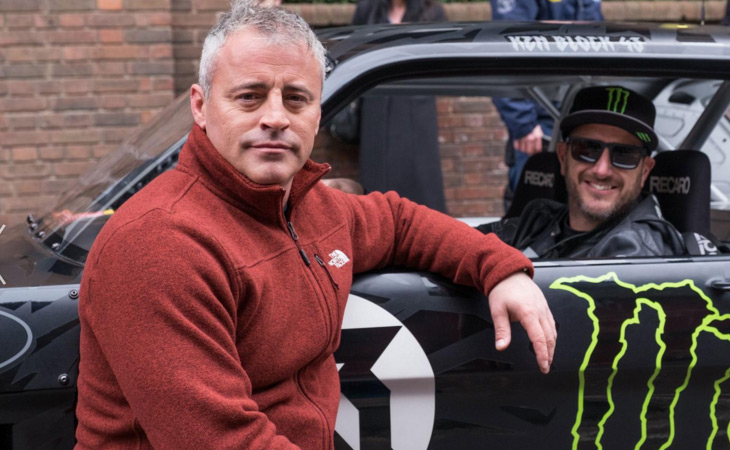 Matt was joined by fellow American and Walton Bridge Garage favourite, Ken Block. His infectious mix of motoring madness with the flare of an extreme sportsman makes him a captivating watch regardless of the number of wheels or BHP he is behind the wheel of. But when that wheel is attached to his nuts 845BHP modified Hoonicorn Mustang, it's always going to be entertaining.
He and LeBlanc covered the usual American obsession of site seeing around the capital, taking in London Bridge before moving on down to St Paul's Cathedral. Seemingly smoking out some poor bride on her wedding day, although we suppose it would have at least made it memorable.
You'll have to tune in if you want to see what the pair got up to in full, but if you haven't yet seen it, Block's latest Gymkhana certainly puts the 6.7 litres of American muscle through its paces.
THIS SITE claims no credit for any images posted on this blog unless otherwise noted. Images on this blog are copyright to its respectful owners. If there is an image appearing on this blog that belongs to you and do not wish for it appear on this site, please E-mail with a link to said image and it will be promptly removed.