31st July 2015
|
Top Gear Who? Amazon have secured the Top Gear trio for a new motoring show!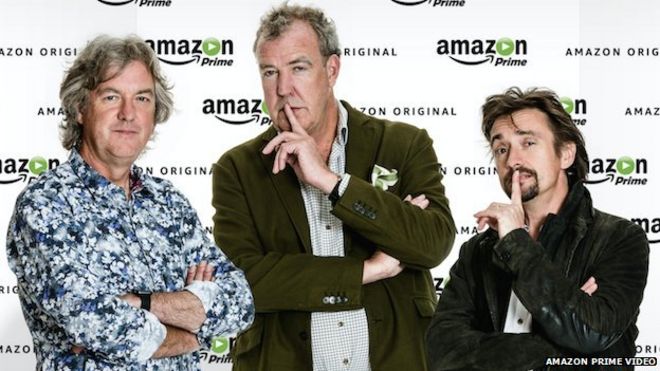 Perhaps the biggest development in the world of motoring this week, hasn't been mass vehicle recalls, sneak peaks at the latest super car or even the excitement of the Hungarian Grand Prix, well not for us at Walton Bridge Garage Anyway.
It is of course the news that the former Top Gear trio of Clarkson, Hammond and May have signed a deal with Amazon, for a new motoring show, with a minimum of three seasons. This is as far as it goes in terms of what has actually been confirmed, but with the first season due to run this autumn, they have plenty of time for the little details like a name.
All parties involved have also kept quiet about the monetary figures involved, but with every man and his TV channel gunning for the trio over the last few months, it is no doubt substantial.
What seems to have tipped the lads in Amazon's direction however, is the artistic freedom on offer via Amazon as an online platform. Removing the BBC's conservative reins which tightened on more than one occasion, due to Clarkson and co "overstepping the line" with their on screen antics.
We previously blogged about Clarkson's exit and those that labelled him a dinosaur and one that should be extinct. But it was in fact Clarkson that rebooted the show in 2002 and restored Top Gear as a Sunday night staple for the nation. Despite a number of squares complaining the show no longer offered any consumer information on cars, he helped build something that appealed to a number of ages and demographics, both male and female, across the board. That isn't easy! If you want a run-down of a car's specs the internet is the place to go, if you want to watch an elderly gentleman race a bullet train across Japan in the latest super-car, you watch Top Gear.
Although now you don't, you'll have to get Amazon Prime Instant Video. No doubt it will be available via other less legal channels, but what we don't condone this of course.
Despite the slight issue of a subscription fee we aren't alone in welcoming this news! Clarkson and co can't be dinosaurs in the full sense as they have now evolved through the ice age and meteor showers, to take to a new landscape and continue their journey.
As Clarkson owns the format rights to Top Gear, it will no doubt follow a similar layout. But hopefully with even more outrageous stunts, races around the world and jokes on Richmond Hammond's height, hair, clothes and so on.
In motoring terms Amazon have taken the timeless core personality of something and given it a fresh, modern body to make it appeal to a brand new audience all over again. Just like Mini have done with the Cooper and Fiat with the 500 and look how well they're doing!
THIS SITE claims no credit for any images posted on this blog unless otherwise noted. Images on this blog are copyright to its respectful owners. If there is an image appearing on this blog that belongs to you and do not wish for it appear on this site, please E-mail with a link to said image and it will be promptly removed.